Kayak Fishing Guide Services
Serving Southern and Central California
Dedicated to the art of kayak fishing
---
Kayak Fishing Hooping Outfitting Tours Diving
See why kayaking is one of the fastest growing sports today. We cater to the specific needs of the client. Whether it's your first time out on a kayak or you're just looking to hone your skills, our licensed and bonded guides will work hard to accommodate your needs and to assure that you have a great time as well as a safe trip. We offer fully outfitted (kayaks and gear included) private and open group lessons as well as non outfitted (bring your own k ayak and gear). Groups, events and corporate functions are no problem. Need help converting your stock kayak into a fishing machine? Let years of experience take the guess work out of installing rod holders, bait tanks, fish finders, GPS and more.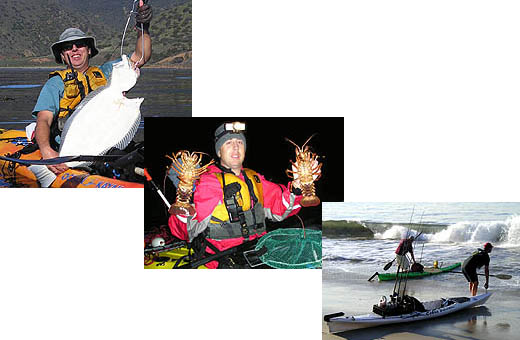 Learn the basics of paddling (kayaking) with an emphasis on safety. Everything from paddling to safely launching and landing your kayak. Introduction to surf launching/landing (harbor launch per request available).
Whether you're an accomplished angler, have experience fishing or none at all, we will adapt to meet your needs. More and more experienced anglers are adopting kayaks as their main platform for fishing. Most of the fishing we do is coastal calico bass, sand bass and halibut fishing. Depending upon time of season we may target barracuda, white seabass, yellowtail and salmon.
Seasonal lobster and crab clinics begin Oct. 2nd.
Turn your stock kayak into a kayak fishing or diving machine. Kayak Sportfishing will outfit your kayak with everything from rod holders and paddle clips to bait tanks and fish finders. Fully outfitted packages including accessories and installation are available. Call for a quote. Prices are very reasonable.
Are you a certified diver new to kayaking? Looking for a guide to help put you on the reefs? Our local knowledge combined with the aid of sonar will help bridge the gap between costly coastal charter dives and those energy draining shore launches. Must be certified (2 diver minimum).
Kayak Demos and Selection
Not sure what kayak is right for you? We can help. Kayak Sportfishing also has several sit-on-top kayak models to choose from. Our fleet of kayaks range from long and narrow (fast with moderate stability) to short and wide (moderate speed and very stable). Single, tandem and tripple seat models are available.
Securing Gear and Equipment
After safety, the name of the game is securing your gear. As simple as this sounds, it's one of the most important and sometimes forgotten aspects of kayak fishing. This invaluable information will save you time and money.
---
Kayak Fishing Experience Levels
Beginner: Learn the basics. Paddle, launching, landing, securing gear, introduction to fishing tactics and gear essentials. Harbor and lake launches available per request. Introduction to surf launching and landing (if it applies).
Intermediate: A stronger emphasis is placed on tactics and techniques: targeting specific species, lure and bait selection, catching live bait, landing and/or safely releasing fish, fish cleaning (if it applies). Learn more about the variables that can affect kayak fishing.
Advanced: Targeting big game fish, extended paddling distances and open ocean trolling, launching and landing through surf and fishing in less than ideal conditions (if it applies). Depending on what time of year it is, we may target thresher sharks, salmon, white seabass, yellowtail or other big game species.
---
Full Day Rates (5-7 hours)
Fully Outfitted kayaks, equipment and fishing gear included
$250 per person / $200 each when two or more

Partially Outfitted kayaks and kayak equipment
$175 per person / $150 each when two or more

Non Outfitted bring your own kayak and gear
$85 per person / $75 each when two or more

Prepaid Kayak Fishing Trips and Excursions / Gift Certificates
CA State Fishing licenses are not included!
Email: info@kayaksportfishing.com
Phone: 818-521-1289