Colonet Dos
by Trevor "Rastrev" Blann
We left for Mexico at noon on Thursday and began our journey. The drive down was fairly uneventful with one of the highlights being our stop in Ensenada for Cuban cigars and tacos de pescado. We arrived at the house around 4 in the afternoon and relaxed with a Sierra Nevada Pale Ale. Our thoughts were on the hunt in the morning. A few of our friends began to filter in, but we made it an early night.

We were up at 5AM and on our way to the punta, when our first obstacle struck… The truck got stuck in the sand. After a bit of digging and a little help from a guy that was camping on the beach, we were on our way again. We arrived at the launch spot with out any other problems and the ocean was calm and glassy. We both had smooth launches and began paddling toward the point. After several unsuccessful attempts to make bait, we decided to troll lures and see what happened. I tied on a Rebel Fast track and Chris "Holy Mackerel" Fierro tied on a similar lure except that it had a greenback pattern. Chris caught a couple of small (10"-12") croakers and I jokingly told him he should ask them where their grandfather was hiding.



We made it out to the point and stopped to take a moment of silence in honor of Boltsfan. We also took A few pictures of natural beauty around us.

We could see a couple of pangas about a mile or so further out and decided to paddle out towards them.

As we began to paddle again…. ZZZZZZZZZZZZZZ!!!

Chris' clicker starts going off.

He sets the hook and fish on!

Whatever he has on is ripping out the drag on his 30# test line and towing him out to sea.

I reeled in my lines and got my camera out to begin taking pictures of the fight.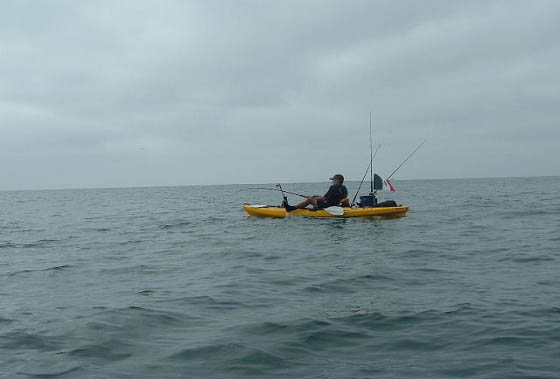 I have to paddle hard to keep up with Chris because the fish is taking him for a ride. After a 20-25 minute fight and being towed at least 250 yards away from the spot where he originally hooked up, Holy Mackerel shouts to me, "I've got color!!! And it's the biggest white sea bass I've ever seen!!! He is able to stick it with his gaff, but the fish almost pulls the gaff from his hand. He is barely able to hold on and pulls the white sea bass aboard.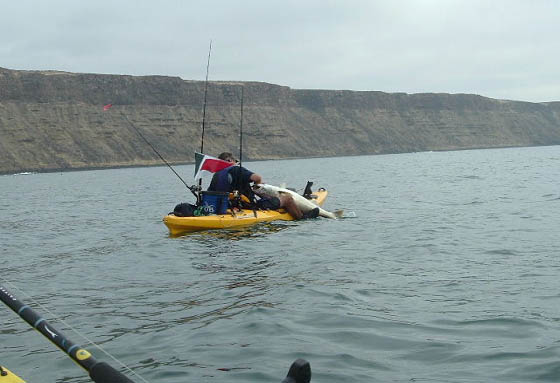 After several shouts in triumph we each have Sierra Nevada Pale Ale in celebration and began our paddle back to shore.

We work our way in along the cliffs and see several guys diving for sea urchins.

I am still trolling my fast track and land four greenbacks in 10-12"range, but catch no fish of note.

After an uneventful landing, we loaded up the yaks and head to the mercado to get ice.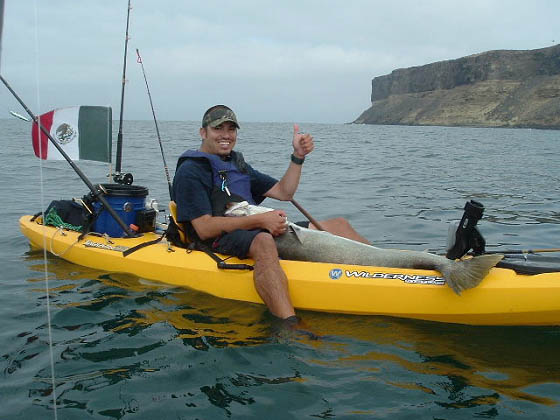 We stopped at the mercado with the White Sea Bass's tail sticking way out of the 94-gallon cooler that we had brought with us.

Several of the locals come out of the mercado to admire the giant fish including several little kids.

They are in awe of the fish and cannot believe that it was caught from a kayak.

We bought ice and went back to the house where we tried to weigh the fish, but the scales that we have only go up to 50 pounds and the white sea bass weighs more than that.

We measure it and figure we can get an

equation from the DFG or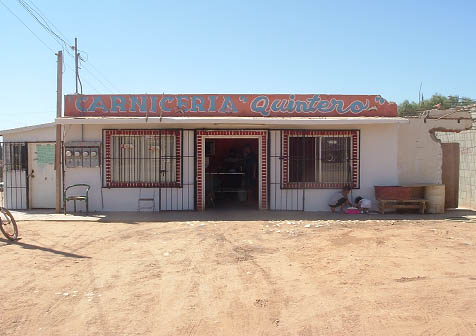 marine biology school when we return to San Diego. The length was 4'7" and the girth was 28".We still want to weigh it and decide to take it into town and find a carniceria and see if they have scales big enough to weigh it.
We find one but heir scales only go up to 10 kgs. The butcher suggests that we cut the fish in pieces and weigh each piece individually. So he runs it through a ban saw and we weigh four separate pieces.

We add the weight up and it comes out to 27 kg, which is about the equivalent to 60 pounds.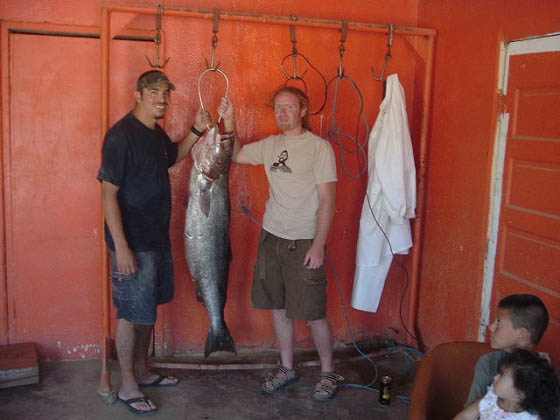 I guess that's how you do it Baja style.

The butcher offers to fillet the fish for us and when we try to pay him he won't take our money.

So, we offer him about ten pounds of meat and he accepts it.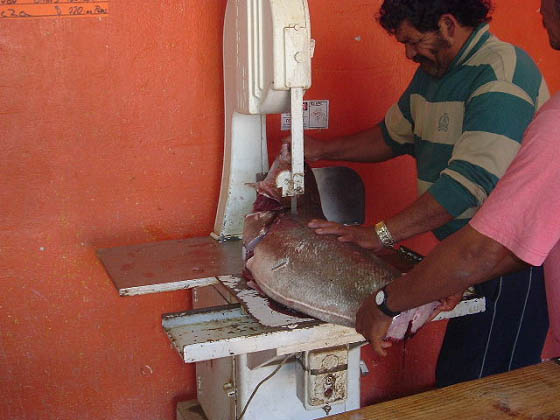 We head back to the house and several more of our friends have arrived including another kayak angler, "Smoker Mike", whom we nicknamed because he brought his smoker with him and as we were to find out rather shortly is quite skilled at smoking fish. First thing is first, so we begin marinating some of the White Sea bass in a soy and teriyaki sauce mix and "Smoker Mike" fired up the smoker. After it is all said and done I can only say one word…Delicious.