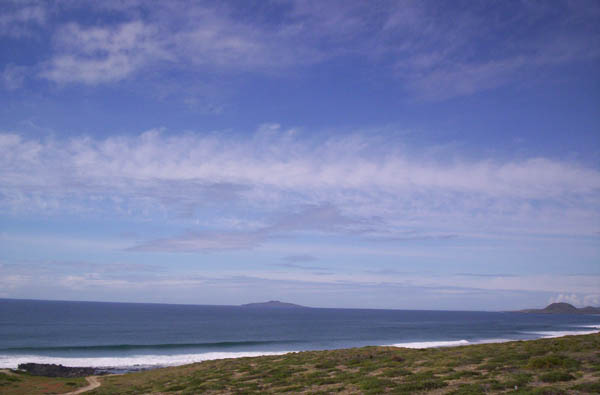 At this point, we had realized that this had become more than just a kayak fishing trip…it was an adventure. I found that I had taken for granted of the fact that we were in seemingly unspoiled lands, able to 4x4 up sand dunes, and drive along some of the most beautiful beachscapes imaginable, with endless views of differing terrains. Here is one of the dormant Volcanoe.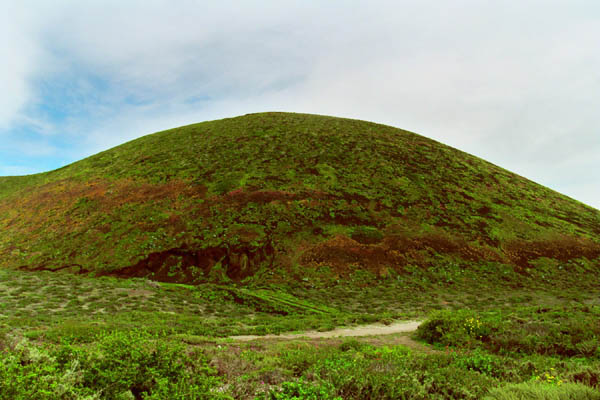 Brilliant red lava rocks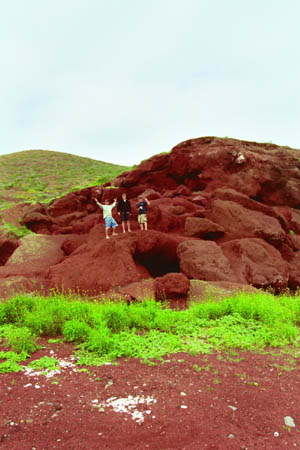 We immediately set up camp, and jumped on the water. Mike was right, there was no surf inside of the point, but there was definitely huge surf rolling in hitting the west side. When we were fishing off the point huge waves would come rolling in, lifting us high into the air, and then putting us back down again. At times Mike, and Trevor would disappear into horizon, and I would look at my fish finder to reassure myself that I was in deep enough water, because if there was a shallow sand bar, or reef, those swells coming in would have made big waves. The rolling swells would pass us, and crash into the west facing beach with the same intensity as it had done north of us in Colonet. The fishing was slow, but we were happy to just be on the water. Trevor managed a sand bass, and Mike caught two small brown rock fish, which later met their fate in beer batter, and made for some very delicious fish tacos.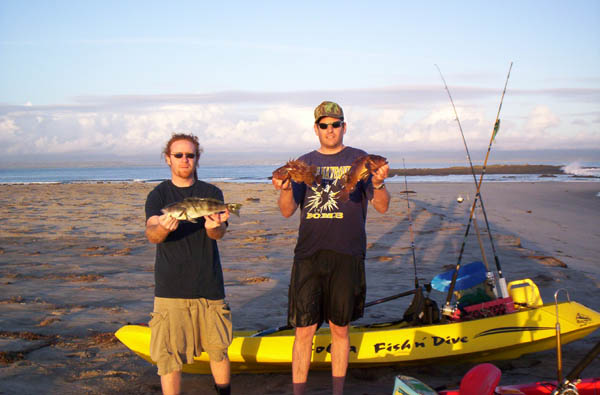 The next morning, I woke up at 6AM, excited to fish the early morning, saw some birds working off shore, and launched into the ankle biters from the eastside of the tip, and headed out. Trevor and Mike launched shortly after I did.
Underneath the birds I hooked into a 9inch pacific mackerel, and sent him to the bottom, to see if I could get one of those big San Quintin halibut I have heard about. About 15 minutes later, I feel my line peel, and wait patiently, as I know halibut really need to chew a bait, but the run falls short, and my mackerel is gone.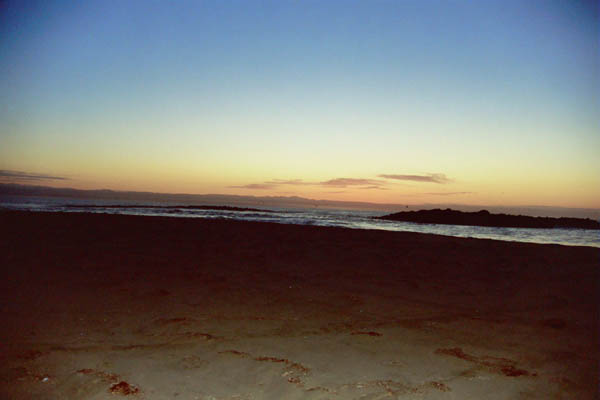 As I sat enjoying the surroundings, Trevor Radio's me, and says there is a 20ft grey whale near him. When I look over at him, I saw that it was within 10 feet of him, and I see him start to paddle quickly away from it. I admit I laughed, but then the whale went under, and surfaced minutes later 50 ft directly in front of me. Although, I find whales amazing, this mammal was a little to close for comfort so I too began to paddle quickly towards shore. Later, Trevor told me that the whale come up next to him within a few feet, and looked at him with his eyeball. The fishing never really picked up, but Trevor caught this nice sand bass, and another similar in size over 3 lbs. I managed to get my first real fish of the trip, which was also a sand bass. We couldn't complain this was going to be our dinner.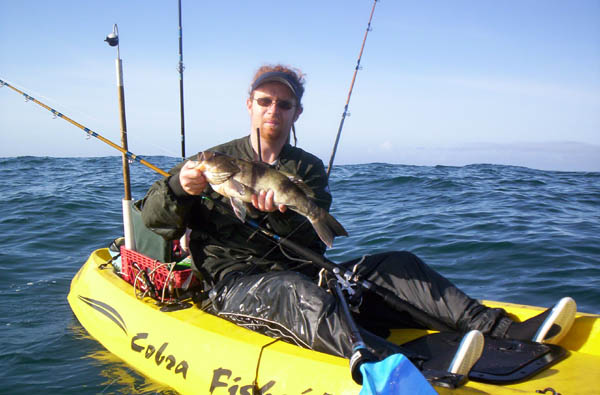 When we got shore we all made the decision to pack up, although we felt lucky to be at that spot, we wanted to fish yet another location, and be closer to the border. So on Sunday, we headed up to Puerto Santo Tomas. The road into Puerto Santo Tomas was beautiful with the new greenery, rolling hills, and farmland. It seemed like there was a break in the weather, we saw a patch of sunshine seemingly coming from the coast.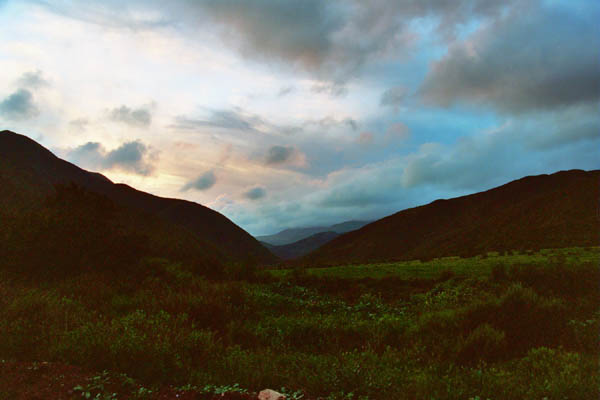 The high road to Puerto Santo Tomas was similar to the dirt roads in Colonet, and San Quintin, which were both muddy, and had large puddles of water. Some points on the PST road appeared cracked on both sides, making for sink hole potential, but we pushed on through, as it would have been difficult to turn around. Upon arriving it was dark out, the weather seemed ominous, and we were unsure where to camp, but a man came out of the restaurant, and we asked if there were any cottages available. En Español he said "let me ask the Patron." We were shown a cottage on top of the Cliffside, with a Billion Peso view, a fire pit, a nice clean room, toilet, hot showers, and all for only $45. We all agreed for the toilet, and hot shower alone, it was a very good deal, and we would take it. The Patron Sam was very nice, and hospitable. He said he would inform us in the morning productive areas to fish, but the weather had been bad recently. So, Mike put his smoker to work, and we ate some very tasty smoked teriyaki sand bass.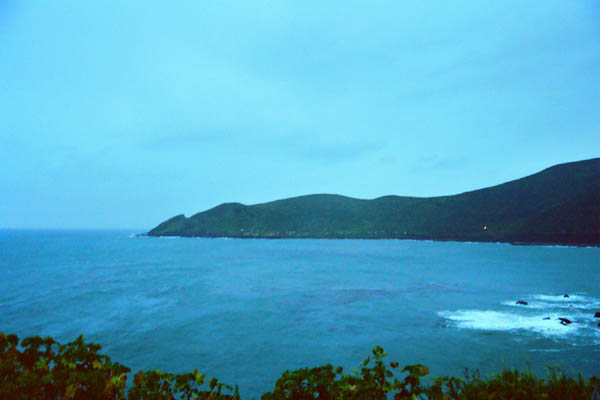 At 6:00AM we hear a knock at the door, it is the patron. He says, "there is a big storm system coming in, four people have died in LA, when it hits here, the roads will be closed, and you might get stuck here for a few days." He also said we were welcome to stay, but he was leaving; we all thought if the Patron is leaving, then so are we! He advised us to take the high road out, as the low road tends to get washed out in these storms.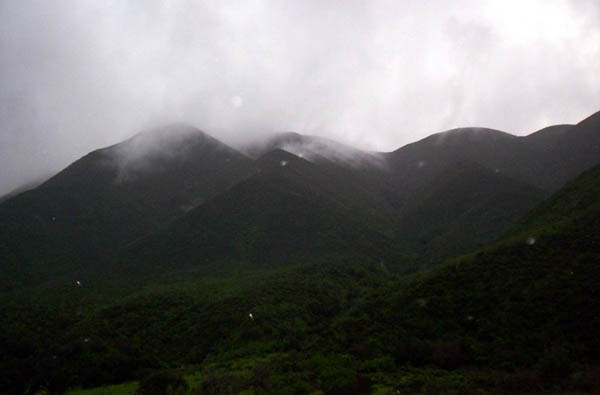 The rain started to pour, and the fog rolled in covering the mountain tops. Trevor told us that this Baja reminded him a little of the Yucatan, during one of his travels. While driving back on Hwy 1, the rain would down poor, suddenly stop with the sun making its appearance, only to rain again similar to our arrival. But the whole time the Pacific looked cold, dark and angry. We laughed a lot on the way back over The Old Man, and the Sea's stories, the time one of us (I can't quite remember who it was at this time) got the 4x4 stuck in mud in San Quintin, and we had to dig it out, all the taco stands we ate at, which my Epidemiology class warned me about, the cottage which seemed like an Oasis during the tempest, the delicious smoked sand bass, and finally our next trip, Pesca en Kayak: A Cabo San Lucas y de regreso.
To be continued…