The Trip started out in Ocean Beach CA, when Mike Jehlers stopped by my house at five o'clock on a Thursday evening, with portentous clouds looming overhead. It had also been sprinkling on and off all day, but the reports from various websites indicated that it was sunny in Colnett (alternate spelling), and San Quintin, so we figured that once we got passed Ensenada the weather would change. Unfortunately, it hadn't because a hard down poor came down upon us, as we were driving down Hwy 1, only to pause briefly and start up again. We had planned to bypass the house in Colonet, and set up camp directly at Punto Colonet, so that we were closer to the launch, but the rainfall had made the choice for us, to seek the safety of the house. Hearing the rain come down hitting the roof top, with the wind howling, we were very thankful to have a roof over our heads. We went to sleep that night under the sound of the storm, dreaming of yellowtail, and white sea bass, only to awake to this sunrise near Boltsfan lagoon in Colonet.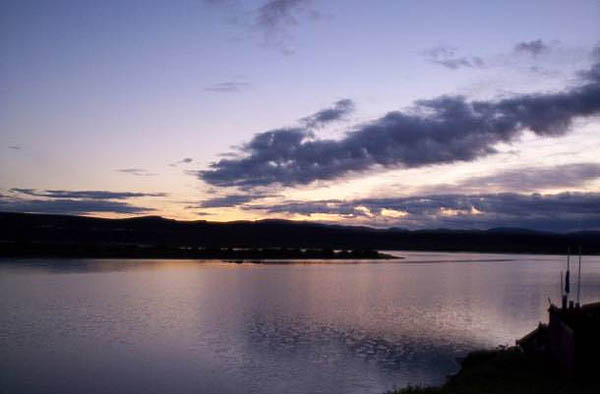 It appeared calm out, but the surf out front was pumping. Most of the time when it is big in front of the house, it is usually calmer at the point. We were wrong, when we got there, not only were the waves were big, but the rain seemed to start up again, along with the wind, and we could see white caps on the seas. We had already written the day off, and decided to head back to the house, and relax. When we got back the weather began to shift yet again, and I was able to capture this picture of yellow wild flowers on the hillside, as the rain had made Baja green, and lush, which brought to life different plants from their desert slumber.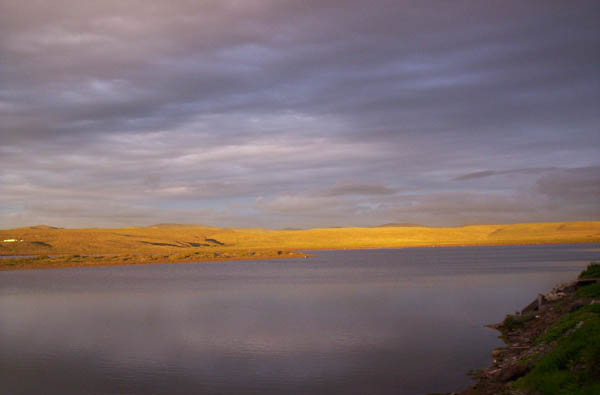 We felt that we made the right decision, and decided to get up at 6AM on Saturday morning to try yet again for our dinner because we brought minimal supplies, as we were over confident we would be able to provide ourselves with sustenance. Later in the trip, sand bass would appear to be a delicacy. It rained again Friday night, but in the morning the sun was out, the winds stopped, and once more the surf was up in front of the house, and the roads were quite muddy. We drove through the muddy dirt roads to the point despite of the conditions, as we wanted to get on the water, and relive past successful hunts.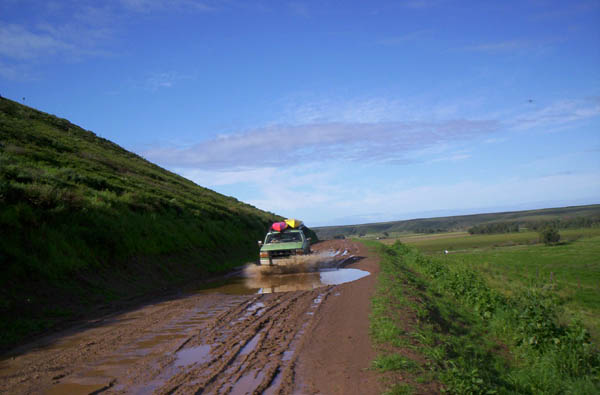 At Punto Colonet, once more huge sets came rolling in, all of us felt an uncertainty about the launch. I remember saying "we all have launch skills, let's use them, and time our launch." Smoker Mike looked at me and said, "Yeah, I have the fear of God, launch skills." We all nervously laughed, and looked at the 4-8 ft sets rolling in, but once in a while there was a soft lull, appearing to be no surf. We all agreed we would wait on shore, and when that lull came, jump on our kayaks and paddle hard to the outside. In hindsight none of us ever thought of coming back into these big sets. The beach line along Punto Colonet is lined with cobble stones; when it is high tide there it is steep, and you cannot see the sand. So we dragged our kayaks down the steep, slipping cobble stones, which caused me to fall into 4 ft of water. I had to climb my way back up the cobblestones, but before I could manage this, white water from the pounding waves outside had caught my kayak and flipped it over. More waves were crashing into the cobble stones. Against my better judgment, while slipping into the water, I flipped my kayak right side up, jumped into the cockpit, and started paddling outside. All I could see was overhead surf coming in, my heart was pounding, and I hadn't felt this way in surf since my first trip to Colonet two years back. White water 3-4 ft tall came pounding in with ferocity; somehow I managed to get through the first attack, and braced my self for the next wave. All the while, I could see that outside there were huge blue walls rising up and crashing with a menacing BOOM! But the relentless white water was within feet of me again, so I had to brace myself. I charged it to try and push through again, but this time I was dislodged from my kayak, and fell into deep water. Surfacing, I grabbed my kayak and another merciless wave hit me. When I flipped my kayak up again, I saw that my new Torium 16 reel flip n stick combo was gone. I was heartbroken, but I had to get over it quickly because once more the white water was throwing me around, as if the ocean was playing with me the same way an Orca plays with a sealion. I practiced self rescue, and was instantly able to jump into my kayak, and head out again. But at this point, even though I was paddling I wasn't getting anywhere, my kayak felt heavy, if not sluggish, and it would not be until I made it to shore that I would learn the reason why. My other rod had put so much torsion on my flush mount that it had popped out, so basically I had a round open hole in my kayak letting in water to fill my hull. Another wave came in, and this would be the last, because it knocked me off my yak once more, and pushed it to cobble stones on shore. I realized that the sea had beaten me, so I swam in.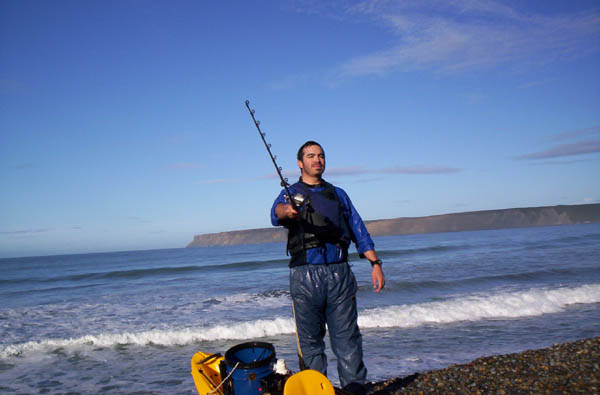 When I got to shore, I saw something sliver, and shining being dragged along the rocks, under my kayak. It was my Torium 16 reel, and flip n stick! It had minor scratches, but it was in working order, and at that point, I realized it also had been acting as a sea anchor. In the picture above, I had washed up about 50 ft. down the beach, and behind me is one of the deceptive lulls. I learned a few things on this launch, first always wear a PFD, secondly use tethers for your equipment, and finally know your limits. Mike said watching the launch was the scariest five minutes of his life. The next time I see overhead surf, I think I will stay on shore, and head out on a calmer day.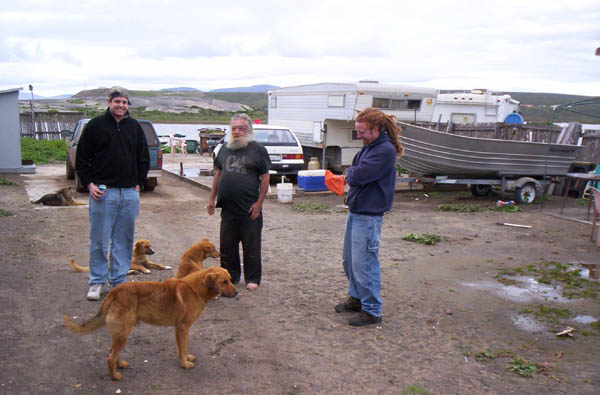 When we got back in, we stopped by my Pal Tom's house, whom we have dubbed the Old Man and the Sea. He usually has some great tall tales, not to mention, several dogs, and information about the area. In this pic, he was telling us about his brand of justice in Baja, because someone had broken into some of the houses in San Antonio del mar, Colonet. Smoker Mike, and Rastrev couldn't help but crack a smile… Due to the surf, we decided to head down to San Quintin, because Mike knew of a great camping spot on the point, which would allow us three different launch spots. Hopefully one would not require a surf launch as the damage to my kayak wouldn't allow it, as the best I could manage was a Baja style patch job. Although it appeared leak proof, I would need the safety of calmer waters for me to fish with confidence. As we got to San Quintin, all of us were amazed by the landscapes, and in awe of the dormant volcanoes, lava rocks, and Isla San Martin.