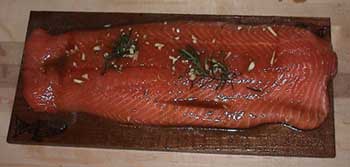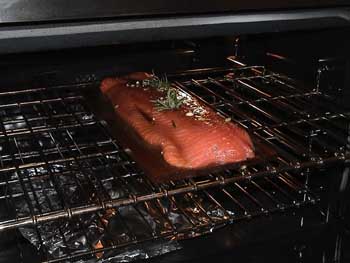 Soak the plank in your sink for about 30 minutes in hot water. Preheat your oven or barbeque. Oven temp should be at 400-450. If you are going to use a barbeque, turn the barbeque on high and close the lid. Those with charcoal barbeques will need a babeque with a lid.

While the oven or barbeque is preheating, prepare the marinate as follows: thouroughly mix in a bowl, olive oil, soy sauce, chardonnay, ginger, pepper, and lemon juice. Add the garlic either by mincing the clove or use a garlic press. Next, add only one tablespoon of brown sugar and mix all the ingrediants. If the oven or barbeque is still preheating and the plank still needs to soak, marinate the filet until the plank is finished soaking and the oven or barbeque is fully preheated.

Next, place the filet on the plank and smother with the marinate. Place two sprigs of rosemary on top of the filet and slide the planked filet in the oven or barbeque.