Humminbird VHF 5
Handheld Marine Radio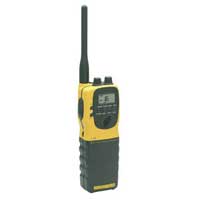 I purchased this radio last August as I knew that a family service two way radio would not be the proper radio to carry when floating around the pacific ocean on a piece of Tupperware while enticing large fish into my boat. What I failed to take into consideration, is the demanding environment conditions kayak fishing places upon my equipment.

While the VHF5 is a basic entry level radio that would suit the needs of most weekend boaters. This radio is not designed to hold up to the rigorous demands of kayak fishing.

The VHF5 comes with a waterproof dry bag. Even though the dry bag provides excellent protection, the dry bag also makes for clumsy operation of the knobs. If you plan on switching channels or volume, the dry bag can be frustrating. If you are going to transmit over one channel all day, you can preset the radio to alternate between 16 and your preset channel. This set up is the most desirable as you only have to operate the call button. The dry bag does not interfere with talking or listening. Use on a kayak forces the application of the dry bag as the connection between the battery and the radio is not water tight and cannot be retrofitted to be water tight. I tried to keep the radio in my mikcrate (without using the dry bag) and the few very light splashes of water and drips from other equipment sent saltwater on to the battery connections.

I use the weather channel function regularly and usually the night before I plan to go out. The battery included with my radio is a nicad rechargeable, with a wall pack charger. An optional 12 volt cigarette charger can be purchased separately. The battery will operate for approximately 8 hours on a full charge. This radio is large and heavy and does not fit the manufacturer's description of "new compact size".

Overall, this radio can be purchase new as low as $70.00 and as low as $50.00, if you know how to farm eBay. I would feel comfortable using it without the dry bag in a boat where the cockpit is well above the waterline and semi protected. I still use this radio as my primary radio for my kayak, however I as soon as I obtain a fully submersible VHF, I will dedicated this handheld as my shore radio, stored in my car or RV.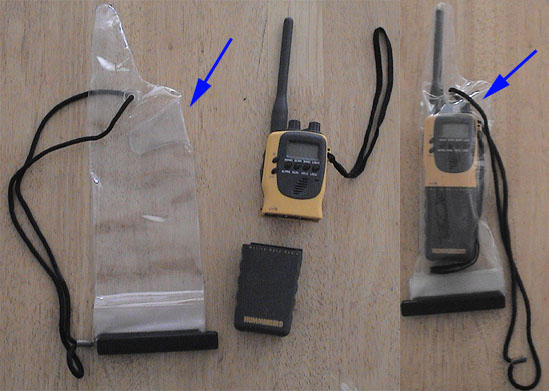 The blue arrows show the location of the finger sleeve incorporated into the dry bag to access the volume and channel selection knobs. The vinyl is not plyable enough to make this operation simple.
Reviewed September 15, 2002
by Ted Mackel
Product Features
Power saver mode for battery conservation

User-programmable "call" channel button

"16" button for instant access to channel 16

"Monitor" feature to hear faint signals

Keypad lock-out

Low battery indicator

Lanyard

Belt clip

Battery: 8 AA Alkalines (Not included)

VHF5C with Advantage

New compact size

5 watts transmit power

Waterproof radio cover included

Receive USA, International and Weather bands

10 weather channels with Weather Alert

Selectable High or Low transmit power

Multi-function backlit LCD display

Rotary channel selector knob

Rotary volume adjustment knob

Adjustable squelch

10 memory channels

Dual channel watch

Tri-channel watch

Selection memory

All-channel scan

Priority channel (16) scan