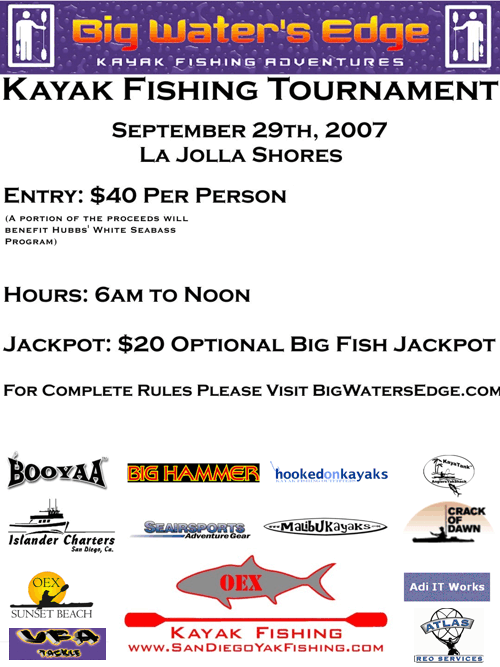 Big Water's Edge 2007 Tournament



Itís that time again! The Big Waterís Edge yearly tournament will once again be held at La Jolla Shores, September 29. We expect this yearís tournament to be bigger than ever and continue to set the bar for kayak fishing tournaments in San Diego. Donít miss out, sign up now!

Date: September 29, 2007
Time: 6am to Noon
Location: La Jolla Shores
Entry Fee: $40
Optional Jackpot: $20

NOTE: anglers will check-in at Avenida De La Playa starting at 4:30am and will be allowed to launch immediately. Lines in will be at 6am, as announced on VHF channel 71. Any fish caught before 6am will not count for the tournament (making bait is ok).

Payout: 1st place- 50%, 2nd place- 30%, 3rd place- 20%

Your entry will include a free barbecue after the tournament, T-shirt, Big Hammer swimbait pack and entry into the on the water raffle.

The On The Water Raffle will be held on VHF channel 71 with winners announced every hour during tournament hours.

A portion of the entry will benefit Hubb's White Seabass Program.



Rules:



1. This tournament is based upon heaviest legal fish. Anglers must obey all DFG regulations. No sharks, skates, or rays will be eligible.

2. Only one fish will be weighed per angler.

3. Tournament hours are 6:00 AM - 12:00 PM. Fish will be weighed on shore.

4. This event is open to human-powered vessels only. No motor driven craft allowed.



To Sign Up, do one of the following:



1. Do it via PayPal through "Paid Subscriptions" in your BWE account User CP (click on User CP, then on "Paid Subscriptions"). Direct link:

http://www.bigwatersedge.com/bwevb/payments.php

You will be ordering "Big Waters Edge 2007 $40 Tournament Entry" subscription. You must have BigWatersEdge.com forum login account to sign up.

Note: Once you sign up for the tournament, "Big Waters Edge 2007 $20 Optional Jackpot" subscription will become available. You must be signed up for the BWE 07 Tournament in order to play optional jackpot. Just go back to Paid Subscriptions link - JP subscription option will be there.

2. Call OEX at (619) 758-9531

3. Stop by the OEX shop at 1453 Rosecrans St., San Diego, CA 92106.