Puerto Santo Tomas

By John F. Pawlak
Very early on the morning of January 4th, 2003 a group of 12 southern Californian ocean kayak fishermen, organized and lead by Andy "Iceman" Allen the owner of The Allen Ice Company crossed over the US/Mexican boarder and traveled 120 miles into northern Baja for a weekend of kayak fishing and camping at Puerto Santo Tomas. http://www.puertosantotomas.com/
It's a two-hour drive along the coastline to the turn off that would lead our caravan of four vehicles and one trailer to Puerto Santo Tomas. The four lane toll way is clean, well marked, uncrowned, and in as good of condition as any freeway here in the US. The dirt road leading to the fishing camp is a different story. It takes about an hour to get from the highway to the camp. There are two routes, we took the high road on the way in and found it to be dusty, winding and with many miles of washboard. I took the low road on the way out and there found it to be muddy, with more than a few large puddles of standing water. I was driving a stock 1999 Toyota Tacoma SR5 and in reality had no real problems traversing either of the dirt roads.

When we arrived at the walled compound Corey rang the bell at the entrance which announce our arrival, soon a man appeared and showed us camp, hot showers, toilets, and answered all our questions. This place is perched high up on cliffs above a rocky ocean floor.

There are no sandy beaches or guardrails and I would not consider it to be a safe place for children or drunkenness.

It is simply a small remote fishing village where men live out their days and lives diving for sea urchins, trapping lobsters, and fishing. They spend their nights in little more than plywood boxes under so many stars that there is no need for streetlights.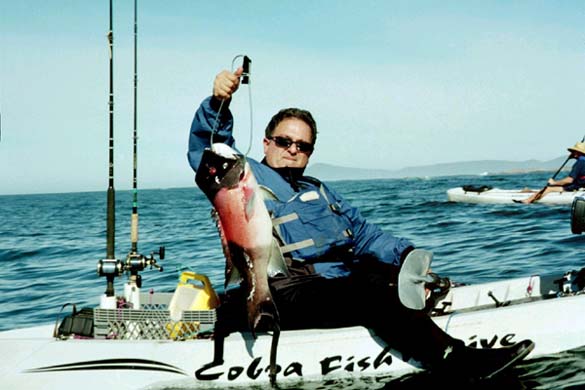 On Saturday we were in the water and fishing by about 9:30.

Shortly after launching and right in front of camp Al "Yak Atak" Silebi landed a large red and black male Sheepshead that weighed 11 lbs and 7 oz. x 26" long and with a 10" wide tail.

Catching this fish was not only a great way to start his trip, but it would turn out to be the first days jack pot winner worth $60.00.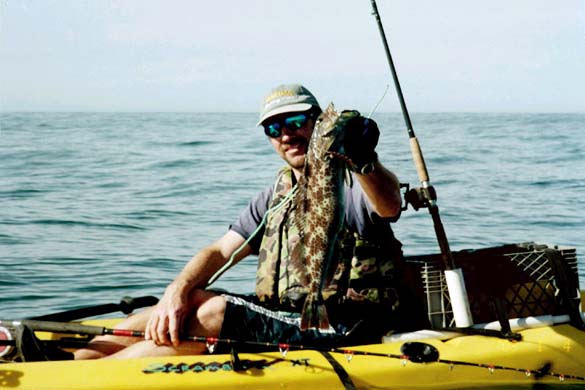 This place was new to all of us and every body was spread out, trying hard to find fish. I have a couple confidence lures that I deploy when probing new waters, because they rarely if ever fail me in times like these, but no lure is going to catch fish unless you're where the fish are in the first place. That's where Yak Atak became an all-important part of my fish catching equation. When it comes to bottom fish, I've never seen anybody (on a kayak or boat) who can match his ability to quickly locate fish. So my plan was to bird dog him until he led me to the fish (as he's done many times before) and then I could take it from there.
We saw a dozen whale spouts on the horizon near three small islands, a half hours paddle west of camp, and paddled out to take a look. The islands the locals call Rocas Soledad as it turned out are (3) 200 feet tall pillars of stone standing alone in 180 feet of water. Southeast of the islands is a reef with a plateau that reaches up to140 feet and here is where the fish were.
Once we were there Yak Atak mapped the bottom by zigzagging up and back all the while looking into his fish finder with the intensity of a surgeon studying a cat scan just before attempting to remove a life threatening brain tumor. Staring at his fish finder Al finally said, "do you see that crazy bottom?", I did see something different here that I hadn't seen anywhere else; the bottom appeared to be very jagged.
My fish totals for Saturday and Sunday combined were as follows;
Johnny Bass 6 @ 13" aver.
Ling Cod 7 @ 19" aver.
Reds 7 the biggest was 3lbs 2oz
Starry 2 @ 11" aver.
Boccaccio 1 @ 3 lbs 1oz X 18"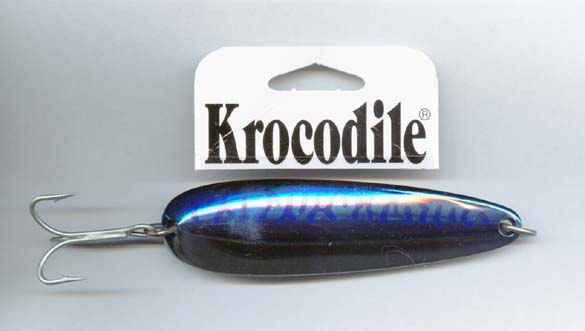 With the exception of two lings I caught all of these fish dead sticking a 2 1/2 oz. blue/chrome mackerel "Krocodile" jigging spoon made by LUHR-JENSEN & Sons, Inc of Hood River OR. I was fishing with a Shimano Calcutta 400 reel on a 7-½-foot Ugly Stick that was spooled with 10 lb test P-Line. The spoon was tipped with a strip of giant squid from Ranch 99, a classic Asian style live and fresh fish market in Claremont, CA.
Around 2pm on Sunday afternoon my old friend Chuck "The Wizard" Muell and I drove back through fields of strong smelling cilantro, green onions and dark red chilly peppers. That dirt road must not get much traffic, because the farm workers (men and women) with their children who were playing near by would all stop what they were doing when they heard us coming and stand up to watch as we drove bye. If we waved they would smile and return our waves. We stopped at a market in Ensenada for a couple a jugs of El Jimador. In the parking lot a gray haired senior citizen dressed in a black guards uniform stood watch over our truck and gear, while in the store a 9-year-old girl who dressed and looked much like my own daughters bagged our groceries.

This was my first trip to Baja and I came here expecting to find the people to be mostly beggars and bandits, but found only happy, healthy, hard working, honest families living a simple county life in a wide-open and undeveloped country.
Eagle Eye