I launched at 4am from the dimly lit La Jolla Shores beach into the pitch-black ocean that lay just beyond the shore break.
I paddled north out of the reserve and attempted to make bait under the lights of the Scripps pier. I was soon joined by Jimm Hoffman, Tom Both and Adam "the fishinmagician" Kimmerly. Other than one 6" barracuda I was unable to catch any bait and paddled out to the point where I caught a few 6" Spanish mackerel.
At dawn there was a pretty good breeze coming in from the northwest and the cloud cover was thick and dark. I was trolling just off the point and out in front of the hotel when I saw Adam hook up. He was in about 90' of water and the fish made a 150-yard run straight for the kelp. I would rather have been the one catching the fish but it was fun to watch as the drama unfolded.
The way the fish had b-lined it for the kelp, I figured it was a White Sea Bass or a Black Sea Bass. As it turned out I was wrong, because Adam after a 15-minute tug of war finally gaffed a 20lb Yellow Tail.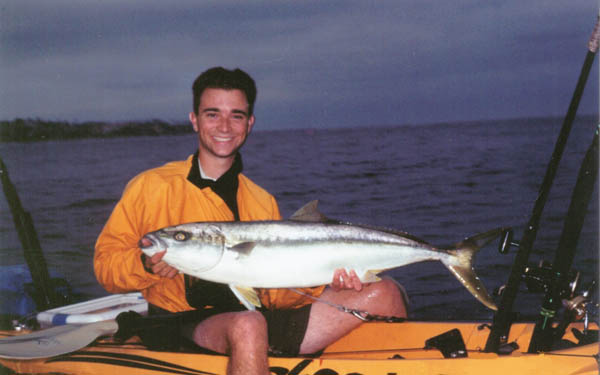 There were about 25 kayak fishermen out there that morning and I saw Adam and Jim Summers both catch Yellow Tail off the Point in about the same place.
I have been fishing this spot for about 6 years now and it is my observations that the Yellow Tails have been fewer in numbers but larger in size than in the past years. On the other hand the White Sea Bass are showing up in greater numbers than I have ever seen. Is it possible that they are displacing the smaller Yellow Tails?
Eagle Eye