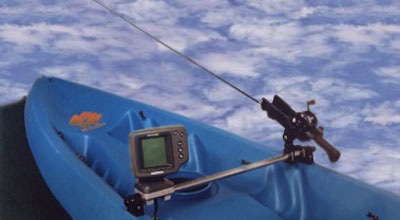 Accessory Bars These have been developed to assist paddlers with accessorizing their kayaks. A nice thing about using a bar is that multiple rod holders and/or other accessories can be set directly in front of the kayak angler. This allows the angler to keep a watchful eye on the rods, sonar or other accessories while also making it easy for the angler to tend to them. Accessorizing your kayak is usually an individual experience, leaving the customizing totally up to the person. For some kayak fishing enthusiasts, accessory bars aren't for them. Though for some, it's the only way to go. There are several options for mounting accessories. Rod holders, SONAR and GPS can all be mounted on to accessory bars.

The Rhynobar mounting system shown above is one of the options available for mounting accessories. The bar is mounted on to the kayak. The accessories can be added to or removed from the bar. "By mounting the bar, you have also added a handle for carrying the yak, a power point to tie off fish to, gear, chutes, anchors and more. Forward mounted rods are easy to see and react to when you have a strike. A few hard paddle strokes will use the momentum of the kayak to set the hook, grab the rod out of the holder and your on." - Jeff "Rhyno" Krieger, Inventor of the Rhynobar. Visit Rhynobar online.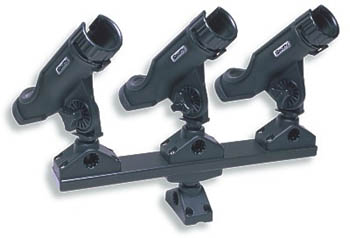 Another option for attaching accessories is the Scotty Triple. The bar fits into a Scotty all purpose deck mount. On top of the bar is a series of all purpose mounts. Scotty has accessories available to accommodate SONAR and other accessories. The entire bar can be easily detached from the base mount. An advantage to this is bar system is that it can be safely stowed prior to launching or landing your kayak. Visit Scotty online.

Image shows the Scotty Triple with accessory options

Image shows the Rhynobar with various accessories
<back